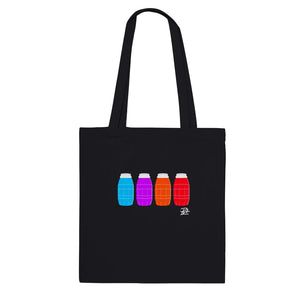 Nostalgia in a Bag: The Classic New York City Quarter Water Tote
Do you remember those carefree days when the world felt simpler, and a dollar could buy you two bags of chips and two Quarter Waters? If you're a New Yorker, or even if you're not, there's a good chance that you've encountered these iconic, sweet drinks on the streets of the Big Apple. We're excited to introduce our Classic New York City Quarter Water Tote, a fashionable tribute to those cherished memories.
Crafted with love and precision, our Quarter Water Tote is more than just a bag; it's a piece of your childhood, a conversation starter, and a stylish, eco-friendly accessory that showcases your deep love for the city that never sleeps. Made from 100% cotton canvas, this tote is not only a practical companion but also a nod to the nostalgia that's forever etched in our hearts.
A Touch of New York City, this tote is a symbol of the vibrant and diverse spirit of New York City. It represents the hustle and bustle, the melting pot of cultures, and the iconic sights and sounds that make NYC unique. Remember the excitement of heading to the corner store with your friends, pooling your change, and savoring the sugary goodness of Quarter Waters? With this tote, you can carry those memories wherever you go.
You'd be surprised at how many people will stop and ask you about your Quarter Water Tote. Just like the Quarter Waters of your youth, this tote is affordable, priced at just a fraction of the cost of most fashion items.
With the Classic New York City Quarter Water Tote, you can relive those unforgettable moments of your childhood. It's not just a bag; it's a trip down memory lane, a celebration of the city that never sleeps, and a statement of your unique style. Order yours today, and let the world see that you carry a piece of New York City and your cherished memories with you wherever you go. Don't miss out on this opportunity to add a touch of nostalgia to your daily life while making a fashion statement that truly stands out.
Release - WeArePVT.com
---