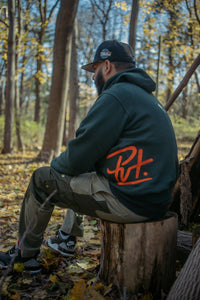 Godwin Hoodie Collection and Gerard Green Cargo Pants
In the ever-evolving world of streetwear fashion, finding the perfect balance between style and comfort can be a challenge. But fear not – we've got you covered with our latest Godwin Hoodie Collection and the stylish Gerard Cargo Pants. Let's dive into the details of each unique piece that's set to elevate your streetwear wardrobe.
Godwin Hoodie in Navy with Cream Embroidery: Our navy Godwin Hoodie with cream embroidery is a classic piece that effortlessly combines sophistication and streetwear vibes. The subtle yet eye-catching PVT logo on the side adds a touch of exclusivity. The deep navy color provides versatility, making it easy to pair with your favorite jeans or cargo pants. This hoodie is the epitome of laid-back elegance that seamlessly fits into any urban setting.
Godwin Hoodie in Black with Vibrant Green Embroidery: For those who crave a bolder statement, our black Godwin Hoodie with vibrant green embroidery is the way to go. The contrasting colors create a dynamic look that screams streetwear style. The PVT logo on the side is a nod to authenticity, making it clear that you're rocking a premium piece. Wear this hoodie for a night out or a casual day in the city – you're guaranteed to turn heads with its striking design.
Godwin Hoodie in Green with Orange Embroidery: Bring some nature-inspired freshness to your streetwear wardrobe with our green Godwin Hoodie featuring orange embroidery. The combination of green and orange creates a visually appealing contrast, adding a playful touch to your outfit. Whether you're strolling through the city streets or hanging out with friends, this hoodie is a perfect choice for those who want to stand out in the crowd.
Gerard Cargo Pants in Two Shades of Green: Complement your Godwin Hoodie with our Gerard Cargo Pants in a unique blend of dark hunter green and a lighter shade. These cargo pants not only elevate your streetwear style but also provide practicality with additional pockets on the ankle. The dual shades of green add depth to your overall look, making these cargo pants a must-have for any fashion-forward individual seeking a perfect balance between utility and style.
With our Godwin Hoodie Collection and Gerard Cargo Pants, we've curated a streetwear ensemble that combines comfort, style, and functionality. The Godwin Hoodies in navy, black, and green offer versatile options for various occasions, while the Gerard Cargo Pants in two shades of green provide the perfect complement. Elevate your streetwear game with these carefully crafted pieces that are sure to make a statement wherever you go.
---